DISPLAY ADVERTISING
Banner ads are now a standard tool in the arsenal of most marketing professionals, but simply reaching a wide audience isn't the smartest use of your marketing dollars. NetLine enables you to use your online display ad budget in an innovative way by precisely targeting your desired audiences across our advertising network. You obtain contextual relevance through placement among leading destination sites and industry blogs, and we provide full transparency into what sites are displaying your banner ads.
HOW IT WORKS: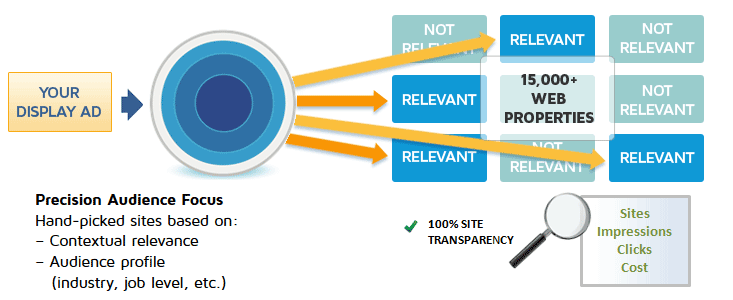 Precision Audience Focus
Hand-picked sites based on:
– Contextual relevance
– Audience profile
(industry, job level, etc.)
Our advertising network reaches more than 75 million unique visitors who access more than 560 million pages each month. We know how to reach this audience and therefore generate a significant number of banner ad impressions and clicks for our clients. Contact us to start a banner ad campaign today.
FEATURES

BENEFITS

Channel-based targeting
CPM or CPC pricing
Standard IAB ad units supported
All forms of rich media supported: HTML, Flash Video
OpenX served (3rd party supported)
Detailed reporting

Highly targeted campaigns with hand-picked sites
Impactful positioning on target niche sites
Site transparency
CHANNELS

Advertising & Promotion
Agriculture
Automotive
Biotech & Pharmaceutical
Business intelligence
Computers & Software
CRM


Education
Engineering
Executive & Management
Finance
Food & Beverage
Government
Healthcare

Human Resources
Industrial & Manufacturing
Information Technology
Internet & Web Development
Insurance
Manufacturing Automation
Meeting & Travel

Network & Communications
Operations
Sales & Marketing
Transportation & Logistics
Telecom & Wireless
Utilities and Energy



... and MORE
QUESTIONS? CONTACT US TODAY