1 MINUTE CASE STUDY: HUBSPOT LOOKS FOR AND FINDS HIGH QUALITY AND QUANTITY LEADS.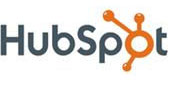 CHALLENGE
HubSpot all-in-one marketing software helps more than 6,000 companies in 45 countries attract leads and convert them into customers. A pioneer in inbound marketing, HubSpot aims to reach companies that want to be found online, generate more inbound leads and convert a higher percentage of those leads into paying customers.
GOALS
Reach U.S.-based companies with 10-1,000 employees.
Qualify large volume of leads on a monthly basis that are owners, managers and higher job titles, especially in marketing.
RESULTS
Utilizing HubSpot's incredible collection of some 20 eBooks, NetLine and its partners conducted extensive and consistent marketing promotions utilizing contextually relevant partner sites, e-newsletter marketing, promotions through social media sites targeting online marketers, marketing through TradePub.com's Mobile App, etc.
NetLine consistently meets HubSpot's high lead volume objectives each quarter.
HubSpot continues to utilize NetLine as a high volume producer of qualified leads month after month.