NEWSLETTER SPONSORSHIPS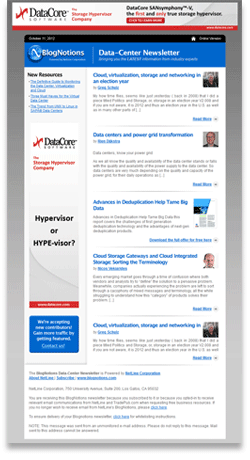 Click Image to Enlarge
ASSOCIATE YOUR BRAND
WITH THOUGHT LEADERS
Email is a highly effective channel marketers use to reach a wide audience. Email Newsletters are a useful tool for marketers to effectively communicate with customers, create awareness, drive traffic, and direct customers to key content.
BlogNotions, powered by NetLine, is a portfolio of industry-specific sites with weekly email newsletters aimed at bringing business professionals the latest news, opinions, and advice from experts within the field.
As a sponsor of your target industry's email newsletter, you get an opportunity to increase mindshare and demand for your product with a new audience and align your brand with relevant editorial topics and thought leaders.
Sponsorship Includes:
Exclusive Monthly Sponsorship
High-visibility placements
Brand association with industry thought leaders
Custom Featured content section
FEATURES & BENEFITS
Newsletters are Industry Specific
Sponsorship is exclusive
Placements include: Top banner (728 x 60),
Side banner (120 x 600), Featured content (custom)
Sponsorship slots are monthly with weekly sends
Detailed reporting (impressions, opens, and banner CTRs)
Brand association with industry thought leaders
NEWSLETTER SPONSORSHIP OPPORTUNITIES
TECHNOLOGY
Business Intelligence
Developers
IT Security
Linux
Mobile
Virtualization
BUSINESS
Career
ERP
Finance
HR
Insurance
Leadership
Sales Channels
Small Business
INDUSTRY
Energy
Engineering
Hospitality
Life Sciences
Manufacturers
Sustainability
MARKETING
Advertisers
Affiliates
Marketers
Social Media