REACH
Leading Online B2B Multi-Channel Content Marketing Network
Reach more of your target prospects by distributing your content across NetLine's vast network of 15,000+ web properties, blogs, newsletters, social and mobile sites.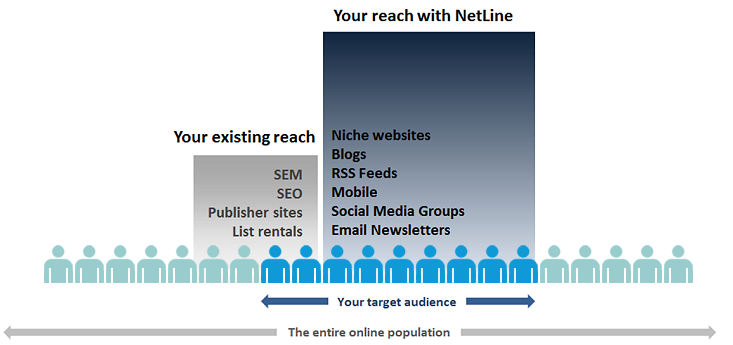 MULTI-CHANNEL
NetLine syndicates branded content and distributes it through the network via email, blogs, social media, and mobile. You reach the best prospects.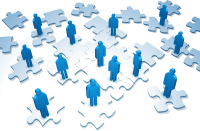 REACH MULTIPLE B2B SECTORS
NetLine reaches across 300+ industries, not just IT as with other networks.

WHY NETLINE
Due to the solid work NetLine did for me at my previous company, I was glad to be able to partner with them again at my new company. I told the team that NetLine would provide results and they indeed delivered

Marketing Director
Global IT Company

I chose to work with NetLine due to their ability to reach the relevant audiences that would contribute to generating high leads volume for my client. Of the campaigns concurrently running with other vendors, NetLine was able to fulfill on the filtered lead goals in a third of the time. Working with their Customer Success team also allowed me to focus on other areas of my job while still staying easily connected to campaign performance. It's hard to build this kind of trust in vendors, but NetLine makes it easy.

Andrew U.
Media Planner
Media and Creative Agency in Mid-West

Support lead generation with branding. Almost any prospect would rather contact and do business with a company whose name and brand value are familiar. Consider investing in marketing programs that offer lead generation and branding at the same time. The more you spread your marketing mix, the more familiar your brand will become to prospects.

Chris Chariton
Senior VP, Product Management & Supplier Marketing
GlobalSpec

NetLine Corporation is more than just a vendor—they serve as a pivotal strategic partner that consistently delivers on our lead generation goals to help us with long-term sales growth. NetLine has demonstrated their leadership by their consistent ability to generate more net-new leads than other vendors. The targeted, quality leads provided allow us to nurture and maintain long-term relationships with these contacts. This is why we have continued to invest in their services over the last 2 years, and as a result, an average 76% of the leads generated from our campaigns are net-new.

David Stambaugh
Manager of Demand Generation
MasterControl

NetLine's lead generation service has been perfect for us since it's quick, easy to use, and there's always someone available with the expert help and guidance we need to make sure our campaigns are successful. The filtering, targeting and great cost per lead provide us with an efficient channel to generate qualified leads from throughout the globe.

Katherine Fawcett
Marketing Manager
Lionbridge

DYN is at the core of internet performance, and with the explosive growth of our market, NetLine's lead generation capabilities provide us with high quality leads and the ability to quickly test various pieces of content in real-life situations. NetLine has consistently provided us with the leads we need to fuel our growth. NetLine additionally has been very helpful with suggestions and observations to help our programs be more effective.

Jane Buck

I'm happy with NetLine's level of customer service, and their Client Services Representative is always very responsive and attentive to our needs. I also appreciate the detailed reports sent every week. NetLine's customer service far exceeds other vendors I've worked with.

Regan Dermu

NetLine's processes and technology are highly advanced, as a result our content and message always reach our target audience. That's why we've had such a successful partnership.

Terri Jo Tatusko

NetLine's Lead Source gave us a very effective channel to leverage our thought leadership. We were surprised and pleased at the speed with which we fulfilled our goals, and the quality of registrants for our white papers matched our expectations dead-on.

Amy Bills

NetLine's Marketing Central is a good solution to help us cost effectively centralize and standardize our complex customer data while streamlining administrative tasks associated with managing, planning, and executing our diverse set of online marketing campaigns.

Paula Reinman

We have been using NetLine since 2006 and their Lead Source program has been a great way to get targeted leads in our vertical industry of manufacturing. We have renewed every quarter because the leads have converted into both sales ready leads and closed business.

Kyle Pickus

While running different Lead Source programs with NetLine my experience has been extremely positive. Their Client Services support sets them apart from other vendors as they pro-actively schedule 'check-up' meetings for our campaigns which have proven to be of tremendous value...

Bailey Cross

This is an essential 'tool' in my 'circulation inbox', consistently delivering subscribers I need in the demographic areas I'm looking for to meet my audit goals. NetLine and its TradePub.com offer the expertise to help me reach our company goals. And the customer service provided is excellent, requests are implemented in minutes!

Pennwell