<< Back to Resources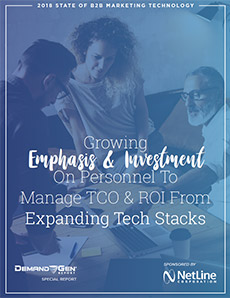 2018 State of B2B Marketing Technology
Growing Emphasis & Investment On Personnel To Manage TCO & ROI From Expanding Tech Stacks
The marketing technology landscape is ever evolving — Scott Brinker's 2018 Marketing Technology Landscape "Supergraphic" revealed there are 6,829 marketing technologies on the market, 27% growth compared to last year. This constant growth and complexity has left marketers to keep up and manage new software additions, integrations and acquisitions.
Experts agree that both consolidation and expansion of marketing software will continue. To navigate this tug of war, some marketers are focusing strictly on utilizing a handful of solutions and making the most out of existing tech investments.
Download this special report to learn the reasons why the martech landscape is both consolidating and expanding, the importance of hiring marketing operations personnel and technologists to make martech decisions and how to assess your martech stack. Plus, read how companies such as ITProTV and CenturyLink reaped the benefits of adding content syndication and maintaining a 'no islands' martech stack, respectively.
This report was conducted by
Demand Gen Report
and sponsored by NetLine.