<< Back to Resources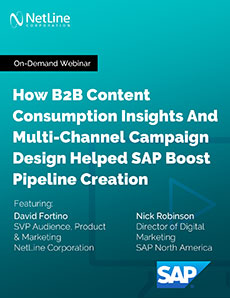 How B2B Content Consumption Insights And Multi-Channel Campaign Design Helped SAP Boost Pipeline Creation
Buyers are overwhelmed by the amount of information at their fingertips. At the same time, the type of content they prefer and consume is constantly changing.
To stand out, brands must orchestrate a coordinated combination of first-party insight-driven content syndication, display advertising, and paid social media. SAP has successfully embraced this approach by identifying and delivering content to accounts that have a greater intent to buy.
At B2BMX 2020, NetLine's SVP of Audience, Marketing, and Product, David Fortino joined forces with SAP's Director of Digital Marketing, Nick Robinson to discuss key success tactics.
Learn how SAP leveraged NetLine's B2B buyer content consumption data to increase pipeline generation and marketing's overall impact on revenue by:
Tailoring campaign and content messaging to large buying committees and complex sale cycles
Embracing intent data to identify likely-to-buy accounts
Leveraging content syndication to put the right content in front of the right buyers
Developing a repeatable process for creating targeted campaigns at scale
SAP discovered the secret to breaking into net-new accounts to reach people who are in-market for the solutions they sell. Discover how you can leverage first-party data and see a dramatic lift in pipeline.