<< Back to Resources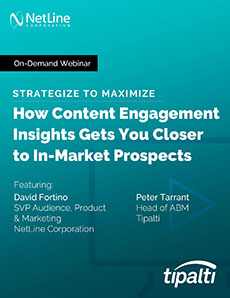 Strategize to Maximize:
How Content Engagement Insights Gets You Closer to In-Market Prospects
Discover how Tipalti boosted qualified leads by 20% representing almost $800k revenue growth.
How can B2B marketers successfully leverage their content to engage in-market prospects and generate quality leads? At Content Marketing World 2020 David Fortino, SVP Audience, Marketing & Product at NetLine and Peter Tarrant, ABM Manager at Tipalti shared the data-backed strategies to do just that.
This webinar discusses:
How to leverage buyer engagement data to optimize your campaign strategy
Why first-party data is a must when relying on third-party solutions
Ways to get in front of decision makers for actionable pipeline generation
How taking a deep dive into the right metrics improves your next campaign
How content marketers can maximize the ROI of their content
Tipalti has optimized their lead generation strategy to dramatically increase SQLs and revenue growth. Get the framework to apply first-party buyer engagement data and proven tactics to your campaign strategies so you can drive results, too.