<< Back to Resources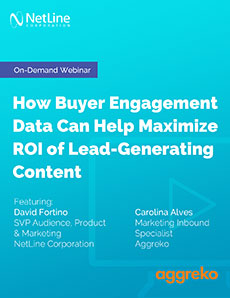 How Buyer Engagement Data Can Help Maximize ROI of Lead-Generating Content
Brought to you from Content Marketing World 2019, this recording of a live presentation gives marketers the framework to apply first-party buyer engagement data to their campaign strategies and features Aggreko to share their success as NetLine clients.
Taking the stage together, David Fortino, SVP Audience, Marketing & Product at NetLine and Carolina Alves, Inbound Marketing Specialist at Aggreko, share the recipe for content-centric lead generation that drives measurable ROI. Alongside exploring data from NetLine's 2019 State of B2B Content Consumption and Demand Report, Carolina, a fellow CMWorld veteran, shares how Aggreko has blown away lead goals with their content. They discuss:
How to leverage buyer engagement data to optimize your campaign strategy
Why first-party data is a must when relying on third-party solutions
How content marketers can maximize ROI on content and meet pipeline objectives
The bar for creating compelling lead-generating content has been raised. With a side-by-side view of the recording and slides, see why Aggreko relies on NetLine for high-quality leads and how you can gain more from your content.