<< Back to Resources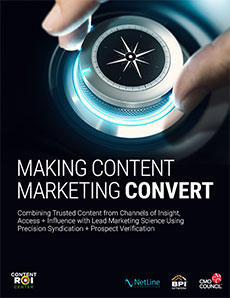 Making Content Marketing Convert
Combining Trusted Content from Channels of Insight, Access + Influence with Lead Marketing Science Using Precision Syndication + Prospect Verification.
Digital content is indispensable in driving business opportunities, market education and customer engagement. However, according to research from CMO Council, only 12 percent of marketers believe they have high-performance content marketing engines strategically programmed to target the right audiences with relevant and persuasive content.
We partnered up with CMO Council and BPI Network on a report that shares:
The problems marketing organizations face in elevating the business impact of content development and distribution
10 essentials for effective authority leadership-driven content marketing
Lead lifecycle management best practices for optimization, evaluation and effectiveness
Learn how you can make content marketing convert and improve actionability, integrity and performance of content-driven demand generation.