<< Back to Resources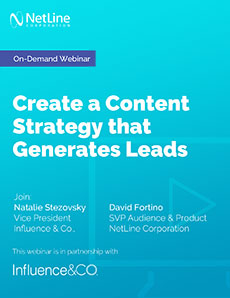 Create a Content Strategy that Generates Leads
Teaming up for another high-impact webinar, David Fortino, SVP of Audience and Product at NetLine, and Natalie Stezovsky, VP of Business Development & Marketing at Influence & Co, share content strategy success tactics to maximize engagement and generate high-quality leads.
Bringing content marketing and lead generation together, this on-demand webinar will take you from content creation to campaign execution. Join us for an action-packed hour covering topics like:
How to create a documented content marketing strategy to maximize engagement
Content tactics that generate leads and specific ways to measure success
How to use data across your entire strategy, from content creation to lead gen execution
Leveraging trending content consumption data to make sure your content is relevant and has an impact
Amplifying your content and reaching in-market professionals for quality lead generation
Valuable insights and best practices on creating compelling content to uncover intent and build your sales pipeline lies ahead. Leveraging data for a calculated strategy, this webinar takes the guesswork out of maximizing engagement.