<< Back to Resources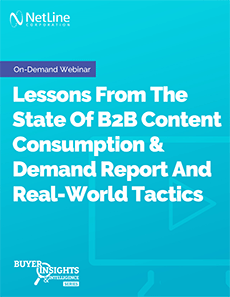 Lessons From The State Of B2B Content Consumption & Demand Report And Real-World Tactics That Achieved 1500% ROI
In this session, David Fortino, SVP of Audience and Product at NetLine, will discuss his observations on content consumption and demand based on findings from the company's 2018 State of B2B Content Consumption and Demand Report. Fortino will dissect some of the stand-out data, such as consumption gap trends with C-level professionals and the significance of appealing to the larger active audience comprised of Individual Contributors.
The webcast will also feature Valerie Riley, Director of Marketing for ITProTV, who will share her experience and perspective on the efficacy of content syndication. Specifically, she will discuss:
• The challenges she faced to pilot a new, successful lead generation program prior to launching campaigns; and
• The winning strategy that led to over 1,500% ROI that can help other B2B marketers discover or expand their lead gen tactics.