<< Back to Resources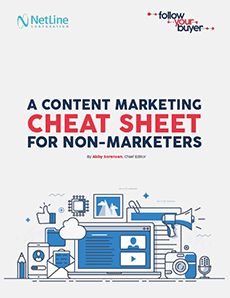 A Content Marketing Cheat Sheet for Non-Marketers
Marketers need to educate everyone from subject matter experts to individual business development reps on what content marketing is and why it's essential for growth.
Content marketers are all too familiar with these questions:
"How much is this going to cost?"
"Why do we need to do content marketing?"
"How long will this take until we start seeing leads?"
Your content strategy can get lost on sales teams and executives who aren't as familiar with the what, when, why, and how of content marketing. It's up to B2B marketers to lay down the foundation and explain how it will grow your company's customer base.
This resource combines crucial key terms used in content marketing and the most frequently asked questions from non-marketers to help you break it down to sales reps and executive team members. Use this resource to prep for that ever-important meeting to successfully discuss goals and strategies.
Brought to you in partnership with Follow Your Buyer.