<< Back to Resources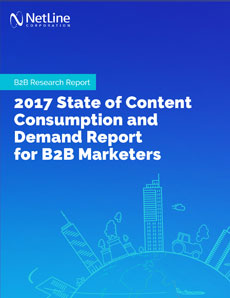 2017 State of Content Consumption and Demand Report for B2B Marketers
Research analyzes 8.5 million leads to optimize your content and demand generation strategy.
Performance-based goals have led to stricter forms of measurement holding B2B marketers accountable for their budget and ROI, emphasizing the importance of lead-based and revenue-driving opportunities. NetLine Corporation conducted new research examining more than 8 million leads generated by content syndication campaigns servicing enterprise-level organizations to startups to extract insights for demand generation strategy optimization.
Watch a video preview of the report
.
The report features a comparative analysis between the professionals actively consuming long-form content and the in-demand personas marketers are actively seeking to reach. Three key opportunities for marketers to leverage at each stage of the demand strategy are offered in the report:
Optimize your content strategy for all stages of the funnel
Pivot your targeting strategy to build deeper influence within an organization
Improve conversion by realigning your nurture strategy with long-form consumption trends
The 2017 State of Content Consumption and Demand Report for B2B Marketers features data driven insights to enable marketers to run more successful lead generation initiatives. Download your report today.