<< Back to Resources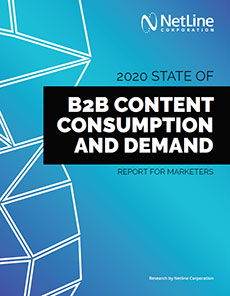 2020 State of B2B Content Consumption and Demand Report for Marketers
Actionable, first-party buyer engagement insights based on 12 months of data from consumption activity across the NetLine Corporation Network.
Feed your demand generation machine by digging into the report that provides strategic, actionable takeaways to target influencers and decision-makers. Transforming in-depth research from 4 million content downloads into digestible, data-backed trends and insights, this report empowers marketers to drive meaningful engagements and increase pipeline generation.
As NetLine's flagship report on content-centric lead generation, this edition continues the tradition of analyzing cross-sections of the total audience, formatted into four priority areas for optimizing your B2B content strategy:
By the People
By the Company
By the Industry
How to Humanize with Data
CEO and Founder of NetLine Corporation, Robert Alvin, lauds the company's ability to better inform B2B marketers. "In operating the largest B2B Buyer Engagement platform on the web, where first-party users are constantly engaging with and consuming business and technical related content pieces, NetLine is in a one-of-a-kind position to understand what audiences truly want" Alvin says. "By producing the only at-scale resource available, we're providing B2B marketers with fully-permissioned data they can depend on to create their own successful lead generation campaigns."
The 2020 State of B2B Content Consumption and Demand Report is for the no-nonsense marketer who relies on actionable data to structure buyer-oriented content marketing campaigns for successful lead generation. Bring first-party B2B buyer engagement data to the heart of your strategy – download today.