<< Back to Resources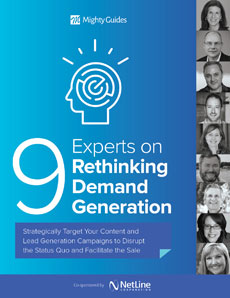 9 Experts on Rethinking Demand Generation
How to Strategically Target Your Content and Lead Generation Campaigns to Disrupt the Status Quo and Facilitate the Sale.
NetLine Corporation teamed up with Mighty Guides to publish this important resource for B2B marketers. Hear from nine top demand generation experts as they share how to identify and nurture true high-value prospects with content-based strategies. The eBook features a collection of essays based upon discussions with thought leaders, including: Tim Riesterer of Corporate Visions, Brent Adamson of CEB (Gartner), David Fortino of NetLine, and more. Learn fresh approaches to demand gen content creation and lead nurturing in this two-part eBook:
Part 1. Content That Converts: Learn how to use disruptive content to sell change. If customers aren't ready for change, they will not buy.

Part 2. Lead Gen and Nurturing Strategies: Learn how to market beyond the C-Suite, which is critical because non-C-Suite employees have twice the influence on buying decisions as their C-Suite bosses.
The essays show that nurturing key people in the buying group—the Mobilizers—requires new content tools, different messaging strategies, and new lead nurturing methods. They offer practical advice and actions you can take to improve your demand gen game. If you're interested in capturing high-value leads—not to mention improving relations between sales and marketing—you will appreciate what you find here.
"This eBook will completely change the way you think and approach demand generation. I highly recommend sharing the eBook with B2B marketers, executives, and sales teams seeking more won opportunities this year." — Robert Alvin, CEO and Founder of NetLine Corporation
By downloading this eBook you may be contacted by the contributors and sponsors of the resource.