<< Back to Resources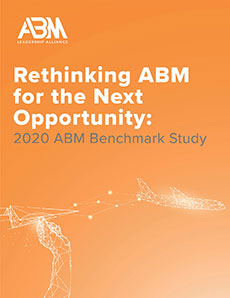 2020 ABM Benchmark Study: Rethinking ABM for the Next Opportunity
The fourth annual benchmark study with the ABM Leadership Alliance and ITSMA is here! Dig into the data to learn how you can drive results.
The opportunity for ABM to drive strategic business impact has increased dramatically as B2B buyers accelerate digital transformation for their own growth and success. This report provides critical data and commentary on ABM program objectives, maturity, budgets, tools, tactics, challenges, metrics, and business results.
Discover the five strategic guidelines for ABM-ers to accelerate success in 2021 and beyond:
Accelerate agile
Deepen account insight
Strengthen sales collaboration
Build a blended strategy
Invest in metrics
Get critical insight into the current state of ABM and the best-practice approaches required for continued success.
Brought to you as a member of the ABM Leadership Alliance.