<< Back to Resources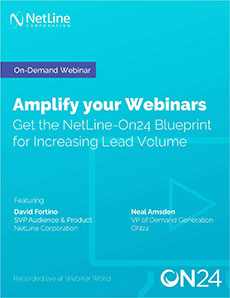 Amplify your Webinars: Get the NetLine-ON24 Blueprint for Increasing Lead Volume
This is a recording of a live presentation with slides from Webinar World, featuring ON24 to share their success as NetLine clients.
Lead generation and webinars unite in practice and on stage as David Fortino, SVP Audience and Product at NetLine, and Neal Amsden, SVP of Demand Generation at ON24, share the blueprint for success to derive more leads from webinars. They discuss:
• Data on content consumption trends that can help webinar-marketers create compelling content
• How to leverage a B2B, on-demand audience pool for higher-quality, in-market registrants
• How ON24 uses NetLine with their marketing automation program to seamlessly capture net-new leads and immediately coordinate branded outreach or nurture
Before you risk audience fatigue with another effort to drive attendance, check out this presentation and see why the webinar experts at ON24 trust NetLine and how you can achieve your webinar-goals.