<< Back to Resources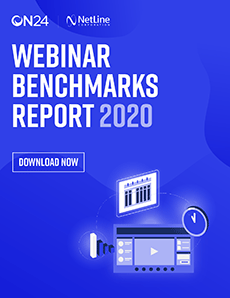 Webinar Benchmarks Report 2020
Webinars have become one of the most powerful tools for creating the kinds of engaging digital experiences that audiences love. But what are the key elements that go into creating a successful webinar?
Read the ON24 Webinar Benchmarks Report 2020 with NetLine and get a high-level look at the best practices that make webinars great. Plus, discover first-party B2B content engagement trends based on research from over 4 million content downloads.
In this report, you'll learn:
Best days and times to promote and run webinars
Most popular interactive tools
Registrant to attendee conversion stats
Trends behind B2B Content Consumption
On-demand viewing metrics
Discover how you can engage your audiences everywhere in 2020 – download now!