<< Back to Resources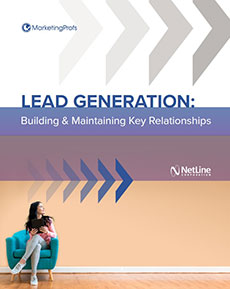 Lead Generation: Building & Maintaining Key Relationships
Lead generation is no longer about filling the top of the funnel. It's imperative that we, as marketers, build real and lasting relationships with clients, prospects, and customers from day one.
We've partnered with our friends at MarketingProfs to help marketers enhance their demand generation strategy and accelerate B2B sales growth. Whether you're looking to kick start a brand new project or want to take your existing process up a few notches, the actionable advice and helpful tools in this resource can help.
In this guide, you'll learn:
Why the funnel is an outdated way of viewing lead gen (and what to use instead)
How intent data can maximize your marketing budget and sales performance
How to use infographics to drive qualified leads
What to do after you've generated a lead
Get the unique insights and solutions to the challenges lead generation marketers are facing as well as easy-to-follow tips for building and enhancing your lead generation engine.