<< Back to Resources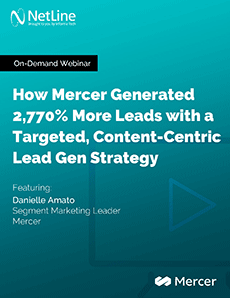 How Mercer Generated 2,770% More Leads with a Targeted, Content-Centric Lead Gen Strategy
Only 2.35% of landing page traffic converts to leads. Put another way, Marketers are unknowingly pouring 97.65% of their budget down the drain. If our sole purpose as B2B Marketers is to make Sales easier, we need to rethink where we're spending our time and money.
Brought to you from Content Marketing World 2022, join Danielle Amato, Segment Marketing Leader at Mercer, to uncover how pivoting to a new lead generation strategy dramatically boosted engagement, generating 2,770% more leads.
Marketers will learn:
How to leverage first-party data and the right metrics to make strategic decisions that inspire results
Ways to build content that speaks directly to your audience and increase engagement
How to segment audiences for a hyper-targeted approach to drive buyers through the funnel
Ways to reach your in-market audience
Proven tips to decrease costs and increase engagement requests
Are you ready to learn how you can pivot your marketing strategy for sales-approved results?